Honey Grail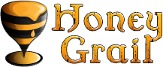 Honey Grail produces alternative alcoholic beverages (mead, mimosa, grog) inspired by historical figures from antiquity. All our products use honey as the prime fermentable ingredient or as a sweetener. We use all natural ingredients with no malt, no hops, and always gluten free. Add some effervescence and you've got an innovative twist to age old beverages.

Each item is packaged for single serve consumption and brewed to 6.9% ABV--so stronger than beer yet more relaxed than wine. Honey Grail utilizes bright, colorful packaging that pops off the shelf and appeals to our target demographic of college educated Millenials age 21 to 40 who prefer cider, sweet white wines, or whiskey over hoppy IPA beers or dry red wines.

Our award winning products have even been recognized by Jim Koch, founder of Sam Adams.