7Cs Winery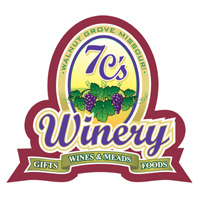 All our wines and meads are in Recyclable Pouches
85% greener than glass and goes where glass can't
No corkscrew, resealable 375ml and 750ml
sold in boxes of six 375ml or four 750ml ONLY

7C's Winery is located 1.8 miles north of Walnut Grove MO off Hwy 123 on 560th Rd.
The Winery opened in the Summer of 2009 and produces wine and mead (wine made from honey). Their motto is "Drink What You Like and Like What You Drink" they offer wines from dry to sweet and everything in between.

7C's Winery is one of the few wineries that produce Mead, which is an ancient and medieval drink. In fact in medieval times "a new married couple would be given a moon's worth (month) of honey wine to ensure offspring – hence the term 'Honeymoon'".

7C's Winery has been open three years and production is reaching levels where they can make selected wine and mead available to retail outlets. Owner Dwight Crevelt said, "We have a hard time making Mead fast enough to keep up with the demand – that is a good thing of course" also "We will only put a few wines and meads into distribution, however all wines are available daily at the Winery"

Bring the family, a picnic and enjoy a day in the country. 7C's has cold bottles of wine and mead as well as a few select beers available. In 7C's Gift Shop there is a selection of cheeses, summer sausages, crackers, soda and water.